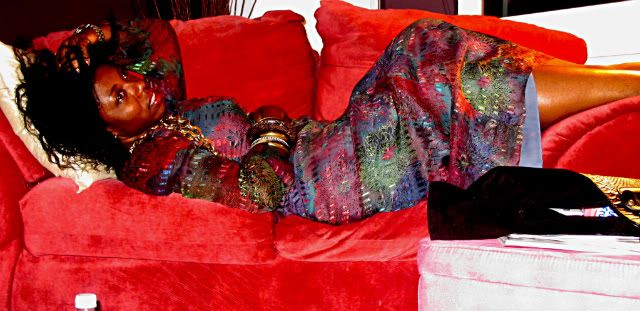 One of my favorite things about having a blog is sharing my moments with my fashion people that live to look fabulous even when a certain occasion doesn't meet our fab standards. Yesterday was one of those nights. I went to a Fashion party in Harlem dressed in one of my favorite dresses. I purchased it from a vintage dealer that was in NYC from Chicago.
The event was in West Harlem near the river with beautiful views. The occasion was to celebrate a fashion editor and his immense contributions to the fashion world. If I were him I would probably have left my own party leaving a nice note behind thanking everyone for all their efforts but that I had to leave. It wasn't fabulous... 30 long minutes were spent on a mic check... really?
I came home and fell on my red couch! This couch is what the red awnings at Barney's New York meant to tourists and shoppers along Madison ave before they turned them into a sleek black. Its an invitation to come in and relax. The intensity can be comforting.
After all a celebration should make people feel happy at home.
xo