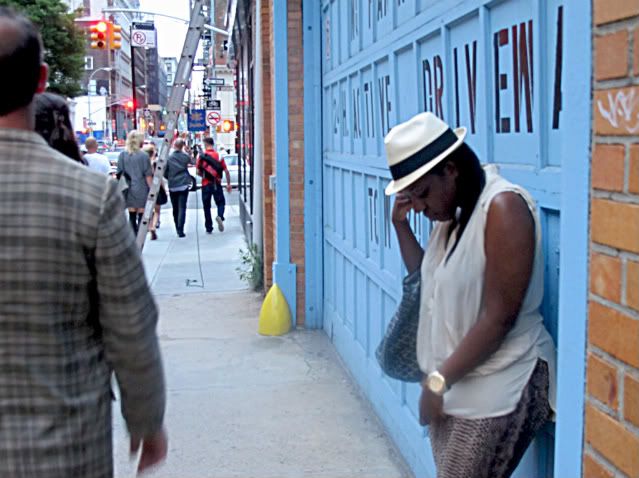 I came to SOHO after having a fitting with an executive client of mine to have a glass of Riesling with my pal Marie. I needed a release after a long work week. My client and I weren't on the same page, he wanted a different shoe for each look, where as I felt he should consider wearing the same shoe for 3 outfits. My suggestion wasn't about costs, this executive is fully loaded and capable of buying virtually anything! However, my job as a stylist is to show people how to get the most of their wardrobe. Great style is being able to transform a pair of shoe into something new by switching a pair of slacks to a great pair of denim, or changing your button down to a henley for a more casual look. Shoes can dress something up or down and that's why we buy good shoes!
My look is a total revamp of pieces in my closet. The top is a Zara dress that I'm wearing as a top, my H&M faux snake skin legging had its moments as a belt! My Walter Steiger shoe carried me through the last summer and will continue its ride through 2011! The classic ivory wedge will always be in vogue!
Remember dahlings, good style is not quantity, its quality!
xo