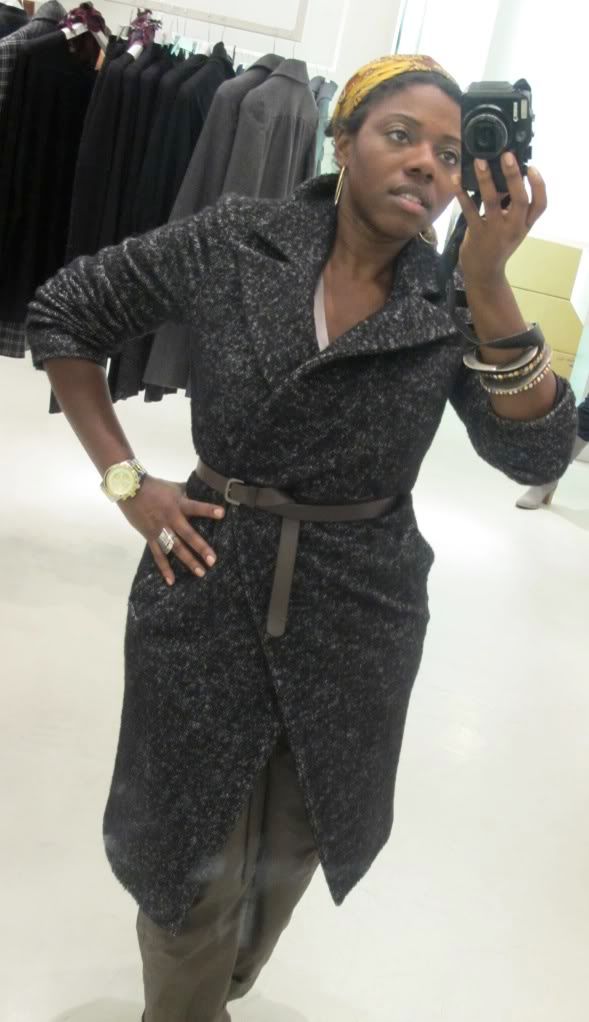 The Coat Dilemma,
I have loads of coats, but it took me a long time to realize I love them for what they are but not necessarily for how they look on me. Oftentimes, I view fashion like art and I want to buy something because of my appreciation for the details, color and silhouette. However something may look amazing on the rack but on our bodies it looks like a 7th grade science project gone bad!
This jacket is everything I can appreciate in a good coat.
1. FIT! Can I dress with multiple layers underneath? Does it fit my arms? Does it showcase my waistline so I don't like bigger than what I am?
2. FABRIC: Wool and Cashmere
3. NECKLINE: I have to be able to wear a scarf because, I love scarves. Also I'm chesty I wear a 34 DD bra. So if I don't have a flattering opening, coats can look like a balloon on me.
4. MODULAR COLOR SCHEME: I love how this jacket looks brown, black, charcoal and even navy. The inconsistency in the colors makes it more wearable as I get bored easily of the same color.
Are we going back to get the coat??