Recently, I was at my one of my favorite lunch spots having cucumber infused lemonade and I saw a fabulous California chic style lady with her "boyfriend" jeans rolled up to show her sexy ankles as well as a pair of Pour La Victoire gray wedges. I thought what a strange coincidence cause I was smack dab in the middle of researching this shoe line! Crazy right???
The trendy and chic shoe line features many of the hottest styles this season. Adding one of these pieces to your wardrobe will ease your steps into Spring 2010 current fashion bliss!!
The open toe lace up trend is key this spring in footwear. I'd pair it up with a floral skirt and tank. Think effortless hipster cool.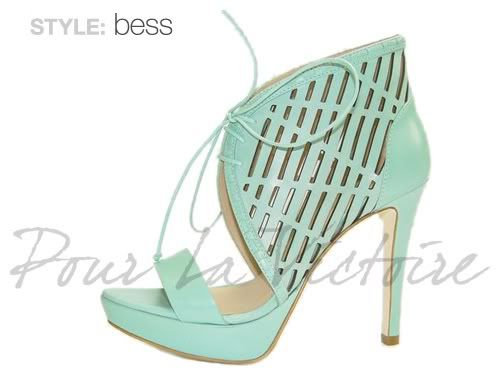 How cute is this minty green!! I can't resist, its soo yummy. The laser cut trend is another hot ticket in the shoe salon! Please avoid the urge to pair this with a Herve Ledger dress. I suggest a silk jumper in a neutral beige or cognac. Belt with a skinny and chunk up your arm with enamel cuffs from Coach or Bendel! If you're really luxe, go for the H.
Anyone who has seen my 5 times in the last 4 months has seen me in a pair of men's inspired oxford flats at least once. The men's wear trend strut the runway in chic all American glamour during Ralph Lauren's Spring 2010 show. The Denim textile on the shoe is an added plus for all American comfort. Pair it up with a short trench coat and tank top dress with a scarf. Top it off with a short brim hat.